2019 Teacher of the Year Ms. Meneses inspires students through art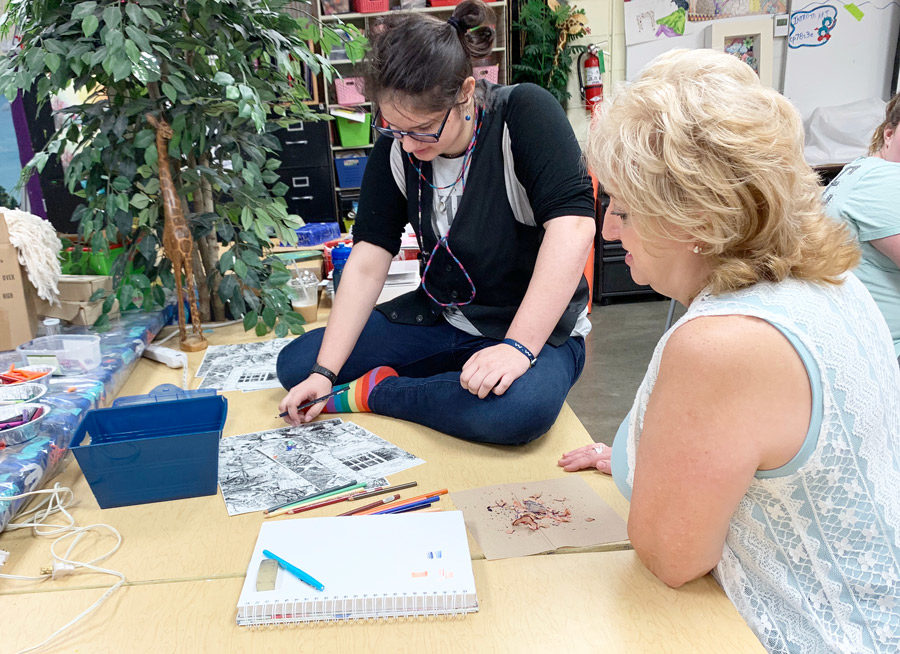 When walking into room 31 there is a visual overload. There are all sorts of things hanging from the ceiling and different papers taped to the wall. Art Teacher Ms. Kim Meneses' desk is located in the far back left corner of her room. Her desk is messy, but organized with supplies in baskets and stacked in three bookshelves beside her desk. Hanging over the smallest bookshelf is a NAHS banner, hung with pride.
Ms. Meneses received the high school's 2019 Teacher of the Year award on March 15, 2019.  She teaches Art Lab, Intro to Art and Crafts, Crafts 2, Art 2, Studio Art (Pre-AP), AP Studio Art (2-D Design), AP Studio Art (3-D Design), and AP Studio Art (Drawing). Ms. Meneses has a variety of experience with teaching art.
"Well I had the Children's Art Institute on the Independence Square for a while, then I taught Christian school before coming here (Fort Osage)," Ms.Meneses said. "So, probably about 19 years. This is my 11th year (at Fort Osage)."
Ms. Meneses reaction to being chosen Teacher of the Year was overwhelmingly emotional and very surprised. Senior Talynn Simer believes that Ms. Meneses is very inspiring.
"She always encourages me to try my best and go out of my comfort zone every single day." Simer said. "But then she also is a really good person to talk about personal stuff and she helps you through a lot of hard times."
Ms. Meneses believes that there's a variety of different methods to teaching art. Most of times it's getting to know the student and what their interests are and trying to trigger those interests into what we're doing to help them perform better. Junior Mickala Stoff enjoys Ms. Meneses' company because she always brightens her day.
"She's always just like very welcoming and she always like has a smile on her face," Stoff said. "She always like lightens up the room whenever you're in there with her."
Ms. Meneses decided that she wanted to become a teacher because years ago she worked and had a degree in art and worked at "Hallmark Cards" for 10 years. She had small children and decided that she wanted to give back and educate the students. So, the students could have more of an advantage than she did when she went into school.
Ms. Meneses student Senior Savannah Ellis has done countless projects over the years. She finds the most recent project to be her favorite.
"The one that we're currently doing right now with the (plaster gauze strips), we had to make a mask and it had to be about how our feelings are," Ellis said.
Ms. Meneses does not believe she does anything different from other teachers.She believes teachers should help each student so they can be excited about learning. Ms. Meneses thinks there is a lot of teachers that have the same philosophy. And that is, whatever it takes to help the student get excited and motivated to follow through with the working class.
Students leave Ms. Meneses' room with a happy feeling from all the colors and posters. Ms. Meneses then takes her post outside her door and begins to welcome the next group of budding artists into her room.
About the Writer
Cassidy Newberry, Reporter
Junior Cassidy Newberry has been attending the Fort Osage school district for 12 years. This is her second year on The Signal Staff. Cassidy enjoys drawing...