Computer animated "The Grinch" offers fresh look on old story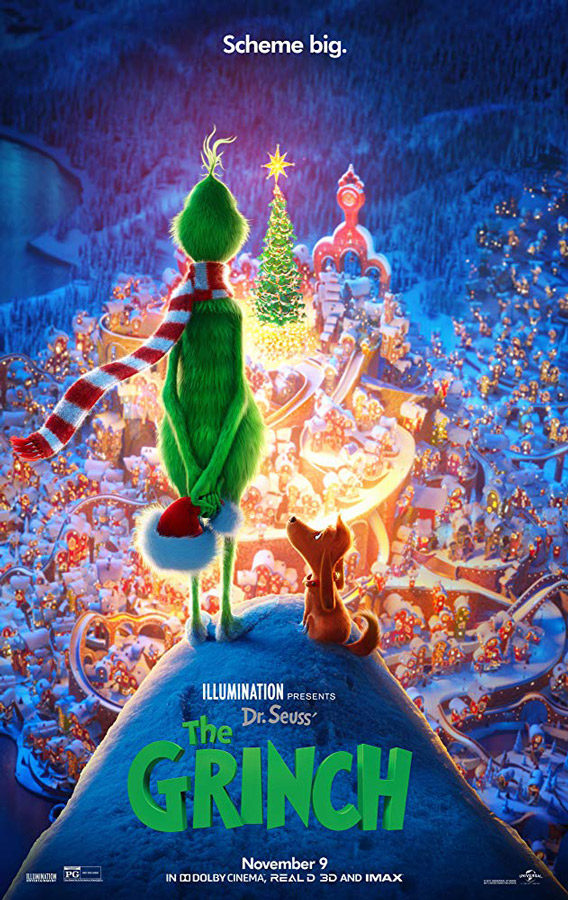 Story by Hannah Earley, Reporting

Looking down upon the town of Whoville the all too familiar hairy green creature lives in the cold cave at the top of the mountain. Based on the 1957 book by Dr. Seuss "How The Grinch Stole Christmas!" and from the producers of "Despicable Me" comes a new modernized version of Dr. Seuss's well-known Christmas hating character, "The Grinch," Rated PG.
Narrated by Pharrell Williams, and directed by Yarrow Cheney and Scott Mosier the film was a bit forgettable in comparison to "How The Grinch Stole Christmas" (2000) starring Jim Carrey. There are only a few signature similarities with the 1966 original animated TV show "How The Grinch Stole Christmas!"  Such as the overall theme of the Grinch stealing Christmas and the setting of Whoville. The producers all went a different route when it came to The Grinch's backstory. In the 1966 version, he had no backstory as to why he hated Christmas. In the 2000 version, the Grinch hated Christmas because he was bullied as a child. In the 2018 version, he was an orphan and had no family so he grew to hate Christmas.
Between the two films and TV show, Carrey's was executed the best overall. Generational differences are very apparent in these productions and, depending on when you were born, might affect your bias about the Grinch of your time. The new Grinch movie stars Benedict Cumberbatch as the Grinch, Rashida Jones as Cindy Lou, and Kenan Thompson as Bricklebaum, a jolly citizen of Whoville. The modernized version has three key major differences that make it inclusive and more culturally accurate.  The mayor of Whoville is a woman in the modern version, Cindy Lou Who's mother is single and works all night to provide for her three Whos, and the film included a variety of nationalities unlike previous versions. These updates made the film more diversified and interesting to watch.
This film has a valuable lesson that all kids should be taught: Christmas should be more about spending time with the people you love than about materialism and gifts. I think this movie will never top Jim Carrey's, but is definitely notable in the sense of lessons and the modern update.