FFA students attend national convention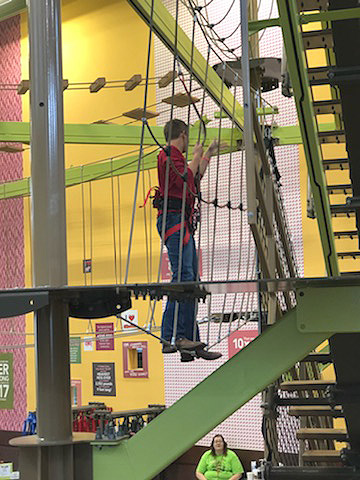 Hang on for a minute...we're trying to find some more stories you might like.
The FFA Students attended the 91st National FFA Convention & Expo Oct. 24-28 in Indianapolis, IN. Fort Osage sent eight students who were among the record breaking 69,944 attendees. The theme "Just One" greeted the students as the entered the convention. FFA program Instructor Ms. Mary Preslar felt that the students benefited from the trip.
"The students practiced many skills, including leadership, and got to experience different areas of agricultural education," Ms. Preslar said.
The students participated in events including the rodeo, Exotic Cat Rescue Center, Career Show, Education Expo, Purdue University College of Agriculture and Animal Science Center, Fair Oaks Farms – Dairy, Swine, and Grain Production Operation, and the American Degree Session. Senior FFA student Mason Snider witnessed the bigger picture of FFA and agriculture during the convention.
"When you're packed into a stadium with over 60,000 kids in the same organization as you, you realize how big the program really is," Snider said.
The FFA students fundraised for the trip by selling fresh produce, meat, and popcorn. Senior Reilly McBee was excited to learn about different fields within the agriculture industry.
"I enjoyed learning about how dairy farms operate, and different jobs within the field," McBee said.
The Missouri State FFA Convention will be Apr. 25-27, 2019 in Columbia, MO.