Lil Wayne continues to impress with 'Tha Carter V'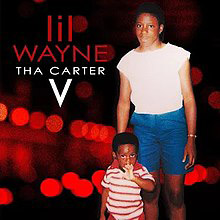 Hang on for a minute...we're trying to find some more stories you might like.
Lil Wayne's fanbase enthusiastically received his new album, "Tha Carter V," (rated MA for Mature Audiences) when it dropped on Sept. 27, 2018. In the album, Wayne raps about his career, suicide attempts, and discovering his reason/purpose.
I've been a big fan of Lil Wayne since I was a kid, and this album is definitely my favorite, thus far. "Tha Carter V" hits home for a lot of people struggling with the same issues as Wayne. It shows that no matter what caliber you're at, everyone faces that kind of hurt to an extent.  Yet, everyone handles it differently. "Tha Carter V" is a common ground we can all relate to. In this case, Wayne poured his heart out through music.
Wayne released a song with the late XXXTENTACION called "Don't Cry." Featuring X on the track made it stand out over the others. Fans commented on this track more than any other in the album. People love it because X is featured, and they love the overall meaning behind the song.
My personal favorite track on the album is "Open Letter," which is take ten. He really goes in depth with how he truly feels about himself and his image as an artist. Take 11, "Famous," is another favorite of mine. It is about how other artists or people around him thought his career was only temporary and that it was going to die out. Not only is the song about his career, it has him talking to his mom about how he dreamt of becoming famous as a teenager.
This album is different from the others because it goes more in depth with Wayne's life story, career, family and divorce. The album talks about pulling yourself up when you just want to give up and how to get through tough situations with family and friends. People compared Lil Wayne to Drake because both artists touch on their own struggles. Several people believe it has "good beats with sad lyrics". Lil Wayne's sound has been relatively the same throughout his albums. Obviously, artists follow what they think their fans mainly listen to, but he's stayed pretty close to his original sound.
Tha Carter V was predicted for No. 1 on Billboard 200 chart, but didn't quite make it. Wayne last hit top 200 on Billboard in 2013 with "I Am Not A Human Being ll," which was sitting at No.2. A close second from hitting the No. 1 spot this year was Lil Baby & Gunna, with the album "Drip Harder." Wayne had the largest streaming week after the album dropped.
I think this is definitely one of his better albums and I can see how he's matured as an artist.