'Mile 22' fails to deliver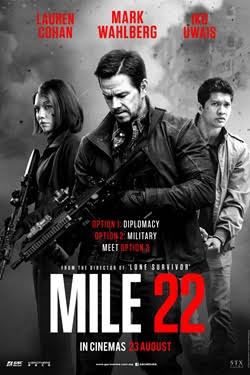 Mark Wahlberg's action packed film "Mile 22" rated 22 percent from Rotten Tomatoes. The film is a patriotic, crime and thriller directed by Peter Berg. James Silva, played by Mark Wahlberg, a CIA operative attempting to lead a lethal patriotic team, including Ronda Rousey as Sam Snow, Lauren Cohan as Alice Kerr, and Carlo Alban as Alexander. In the beginning of the film they are on mission to bring down a house filled with Russian intelligence operatives. The team infiltrates the house, things get out of hand and the team ends up having to execute all of Russian operatives.
Famous UFC champion and WWE star Ronda Rousey, best known for her hand to hand combat skill, was not allowed to have a hand to hand fight in this film. Which is a disappointment to action movie fans who have seen her past films like "Fast and The Furious 7," where she extremely expresses her martial arts skills. But instead of martial arts, Rousey worked with guns for the film and is an important asset to the team.
Li Noor, played by Iko Uwais, brings a disc to the US with information to bring down Russia in exchange to get out of the country. The team is assigned on a mission to transport Li Noor from an American Embassy in Southeast Asia to an Airfield extraction point where there is a plane waiting for Li. With a distance of 22 miles the team struggles to fight off an Asian agency out to kill Li. Whether they make it or not is for you to find out.
"Mile 22" initial weekend gross topped out at $16.8 million. Compared to "Mission Impossible Fallout's" $61.2 million, and rated 97 percent by Rotten Tomatoes. Tom Cruise blows away "Mile 22" with his 6th "Mission Impossible" film, with "Man of Steel's" Henry Cavill. It gives a great plot and heart stopping scene's with Tom Cruise and Henry Cavill performing their own stunts from Helicopter fights to car and motorcycle chases, this movie was a complete success compared to "Mile 22". Even A drama "Crazy Rich Asians" doubled "Mile 22's" opening weekend gross with $34 million. If there was a just a good plot maybe the movie could have kept up but instead turned out to be a dud.
If your into a basic action film with no plot this movie is for you, it has the special effects and all of the explosions you could think of. The film was thrown together in a few weeks. It's as if they threw Mark Wahlberg a bunch of fight scenes, along with a bunch of guns and curse words together and made a film. All though it did have a good and twisted ending the movie failed to deliver a plot or a story that could keep you interested.