Mr. Moore named MASC District Administrator of the Year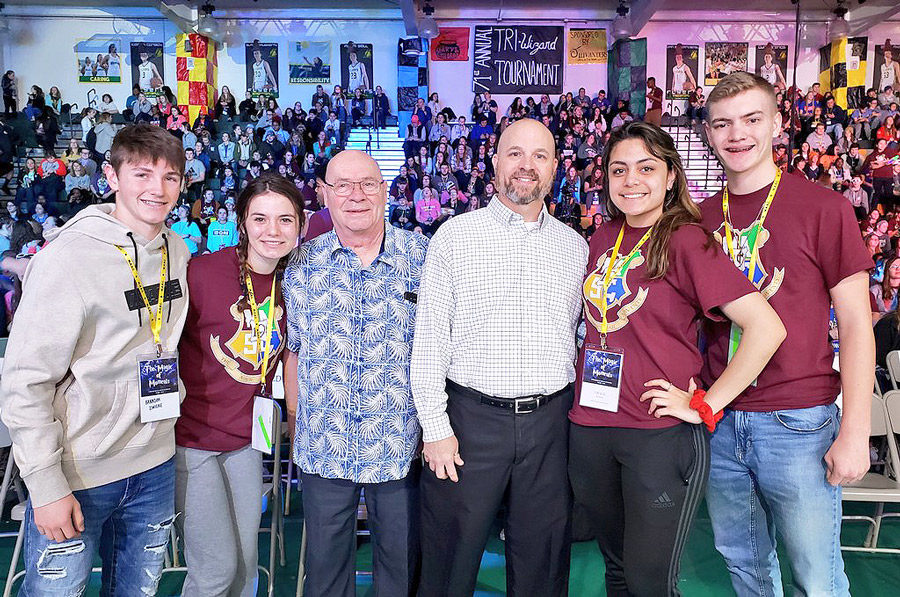 Principal Scott Moore sits in his chair doing important work and taking care of the school's business but he immediately stops and rolls over towards anyone who walks in the room. He stands up shakes their hand firmly with the biggest and most inviting smile. This could be why his office is full of awards and trophies. One specific award currently stands out. The Missouri Association of Student Councils recognized Mr. Moore as Administrator of the year for the Trials West District. He received the honor on March 13, 2019, during the MASC State convention.
Members of the school's student council nominated Mr. Moore to show their appreciation. He helps student council but doesn't believe that he helps them as much as they help him.
¨I meet with them right away once or twice a month and we brainstorm some things regarding what our current practices here in our building to make sure we are going to celebrate students," Mr. Moore said. "Typically I meet with them and we have a tabletop discussion on whatever the topic may be. I get their feedback or get their input and then from there we talk about how we can roll out whatever they want to do.¨
Senior Bailee Summers is the president of the Student Council. She appreciates the help from Mr. Moore and the things he provides.
"He meets up with us at least once a month sometimes more and I think is really cool that he provides us with whatever we need," Summers said.
Freshman Grace Iloilo is a new member of the student council and was at the MASC State Convention when Moore received his award.
"He's never afraid to tell us what he thinks is best even though sometimes our opinions differ from his." Iloilo said. "He's always passionate about how we feel and 9 times out of 10 he'll go with what we think because it's majority rules and supports all their decisions."
There are four things that the administrator must demonstrate in order to be a nominee. One, Be a full time employee of a MASC member school and hold an administrative position. Two, Demonstrate support for the student council, its programs, and activities. Three, Be an advocate for student leadership. Four, Work collaboratively with the Student Council to provide a positive impact on the school culture.
Mr. Moore feels as if this school is more of a home than work. He treats his students more as if they were his kids and makes him more appreciative of the little things.
¨I feel like work is home because I'm here more hours than I am home but I think about instead of just the one daughter I have at home I think that all the students at school as like my own kids," Mr. Moore said. "I think it's made me a little bit more appreciative of some of the little things.¨
Mr. Moore rolls over to the jar of tokens to reach in grab the visitor one for a free ice cream cone to show appreciation to any respectfulness. He tells them to have a good rest of the day as you exit the office with a huge smile.