Take a closer look at girls wrestling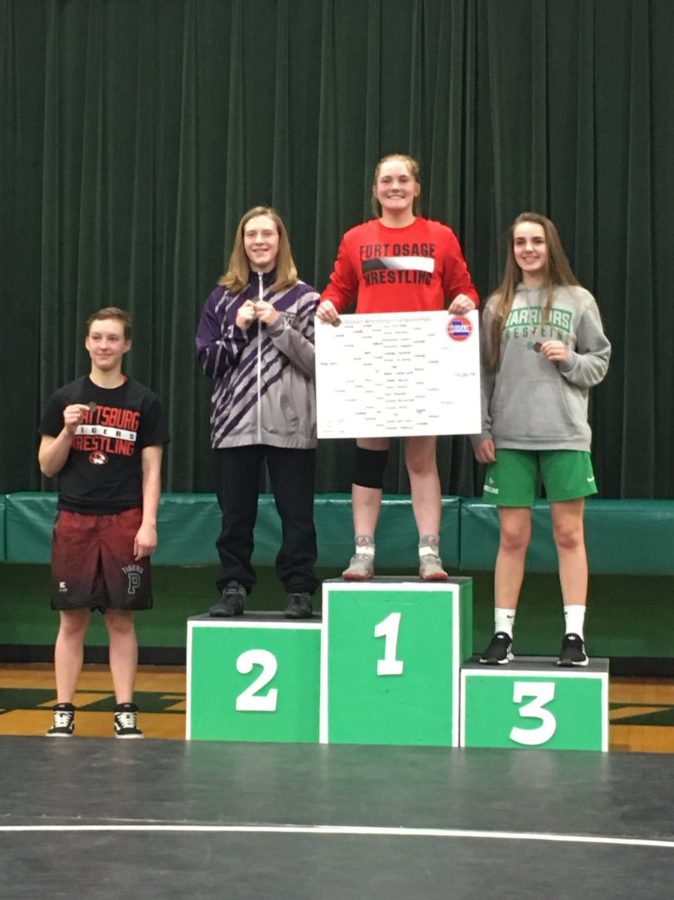 Look at these girls. Have you seen them? I'm talking about the Girls Varsity Wrestling Team. It is made up of four girls that include sophomore Lauren Hahne, junior Tess Kinne, senior Megan Lyon, and sophomore Alexa Rivera. These students are the pioneers of girls wrestling at our high school. Fort Osage joined 168 other high schools in Missouri by starting a girls-only wrestling program.
Have you seen Tess Kinne? She had the best record on the team at 25-2, took the first individual district championship in school history and qualified for the first ever Missouri High School Activities Association Girls Varsity Wrestling Tournament where she finished fourth in the 136 lb. weight class. Consider this: Kinne had to wrestle predominantly boys for her first two years of high school wrestling, often ending up on the losing end. However, she participates in competitive girls wrestling outside of school and has won individual championships at tournaments around the country. She is also the first girl's state wrestling medalist in eastern Jackson County.
How about Lauren Hahne? She was the first ever State Qualifier from our school and finished with a record of 18-6 in the 131 lb. weight bracket. She made it to the second round wrestle back at the State Tournament. Megan Lions finished her season at 5-8 and Rivera, who started later in the season, practiced with the team but did not compete. Lions made some noise and I'll bet we will see Rivera next season ready to go.
These four girls laid the groundwork for future female wrestlers at Fort Osage. Kinne will continue her next and final year of high school and look to improve upon this season's success. Hanhe will continue to improve and hopefully, have alongside her more girls competing, like Rivera.
Kudos to these girls for making history for our girls wrestling program, and I am proud to say I go to school with them.