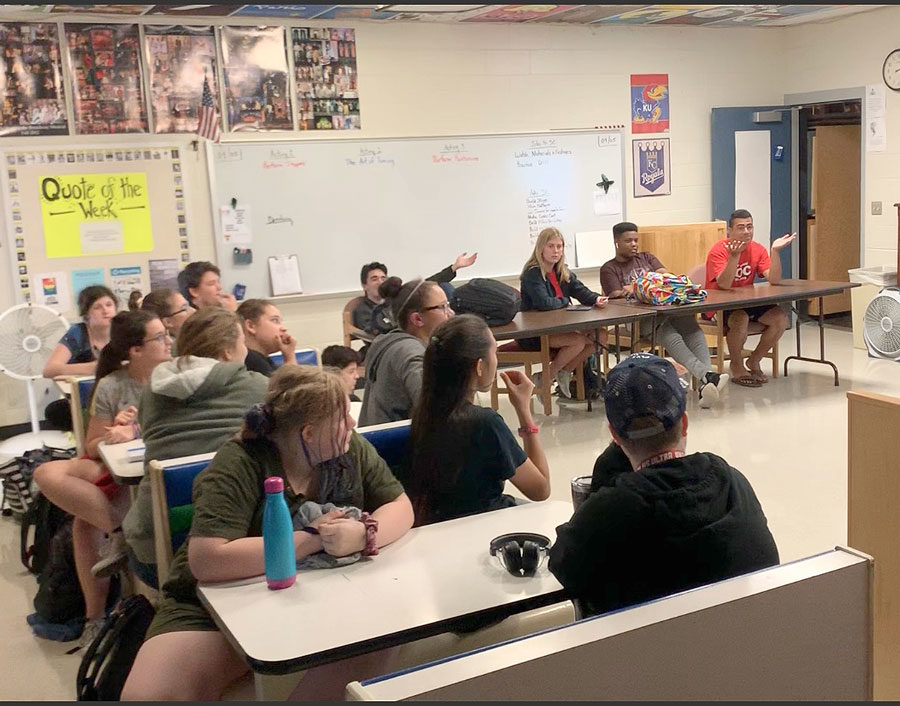 Sarah Short
A loud chatter of multi pitched voices can be heard echoing off of the tile floor. Kids gather inside of booths and munch on the snacks that were being served in the cafeteria. As the club president Kylie Cox prepares to talk about t shirt designs and pulls up the two options on the board. Hushed conversations continue as she explains the designs. She asks who prefers the first option and scarcely any hands shoot up. She then asks who prefers the second option and a wave up hands shoot up. She nods and jots down the selected shirt. The students disperse through the door and into the stage area.
The Drama club meets on the first Thursday of every month during collaboration after classes dismiss. During Star Time Club Days the officers meet to set the agendas for the main meetings. President Kylee Cox is a senior that has been included in Drama Club for three years.
"We usually sit on a stool in front of the class and discuss the events that will be happening during the month and it gives us a chance to allow everyone to express their feelings," Cox said.
The officers are a group of seasoned students who makes the biggest decisions on behalf of everyone. They hold the responsibilities of organizing the charities or fundraising events that are going to take place that month. Senior TiJhana Hines is the club's Vice President and feels the club offers students a chance to express themselves.
"Drama Club is a group of people who get together and drama club acts like an outlet for students to exercise different versions of themselves," Hines said.
Drama club offers a chance for kids to build confidence and experience. Senior Tyler Domanski attributes drama club to his self confidence.
"Theater allowed be to be more outgoing and be more myself," Domanski said.
Back in the room, Ms. Hooter constructs a candybar wrapper that she plans to sell during the actual showtime. It reads Willy Wonka and the Chocolate Factory. As she carefully folds the purple and gold wrapper she knows she can count on her Drama Club to help her fold the rest of the wrappers.