Play ball like there's no tomorrow
With the winter months quickly approaching, that means one thing for high school athletes across the country, winter sports are here. But with that comes something else, restrictions due to COVID. Athletes face a new challenge this year that they've never experienced, one that takes away the camaraderie of high school sports, one that takes away fans full of energy rooting for them every play, which is almost as vital as a teammate. This is a challenge that presents itself at every school you go to. It is one that is out of our control, but definitely has had an impact on us.
 I'm a basketball player for Fort Osage's Basketball program, and have been observing the effects COVID-19 has had on me, my fellow teammates, and other athletes. My team has been fortunate enough to have been granted a season and an opportunity to play this year, although even that was questionable for a time, but that doesn't mean it was business as usual. In fact, this year is everything but usual.
 I would say the very first thing I noticed was the difference in this year's summer compared to last year. Summer time for hoopers is key, it is a time for growth, for competing against others, working on improving your game. Great teams are built in the offseason. This summer, we were not able to scrimmage, do contact drills, run plays, etc., This left us really just being allowed to get shots up, and run. Both of which we could have just done staying at home, given you had a hoop. Eventually we found out we would not be allowed to play summer league, something that we have consistently done for years now. Not being able to see competition in the offseason is a major setback for a young, unexperienced team like ourselves. We were at least counting on being able to attend the Grain Valley tournament a week or two before the start of the season, but of course, we weren't allowed. I started noticing the effect this had on our team. There was a sense of anxiousness, not knowing what tomorrow would be like. We knew we weren't as prepared as we'd like to be, the only team we faced until the season opener was ourselves. It seemed like everyday there was news, talk of season ending, worried about a kid getting the virus or seniors wondering what their future as a basketball player might be.
 I recall one day after practice, coach talking to us as we were all spread apart, unable to gather together or huddle up. He told us what he knew at the moment.  We would be wearing masks at all times, even during play, and, at that time,  only 10 spectators would be allowed in the gym. He also told us of the protocol that would take place if a player tests positive for COVID, that player and the rest of the team would be put on hold for two weeks, not allowed to practice, meet together, or play games, no questions asked. I could just feel our spirits descending, these new changes due to COVID were taking a toll on us mentally, and in some ways physically. I personally did not think I was going to be able to play an entire game with my mouth covered. I could feel myself not getting as much oxygen to my lungs and even my brain, which not having a clear head can cause bad decisions and in our case, turnovers. Things really weren't looking bright for us and I'm sure other athletes.
 I would say the only positive out of all of this was our coach sitting us down and telling us what the stakes were. You hear a lot of people say play ball like there's no tomorrow, and for us that really was the case. He told us that everyday we needed to practice like we would if it was our last, because it really could be, he wanted us to leave everything out on the court. After that our attitude and mindset shifted, we were giving more effort everyday and were playing with a fire. 
Another restriction that has had a huge impact on athletes is the limitation on how many spectators can come. Not having the regular amount of fans at home games and a rowdy student section is a major disadvantage. We count on them to boost us up, cheer us on, and most importantly, distract the opposing team and get in their heads.
The fact of the matter is we are grateful to be able to even play this year, but that doesn't mean these new rules haven't been hard, or distracting for athletes. We can't do anything to change this new reality, besides accepting it and working through this strange time together.
About the Writer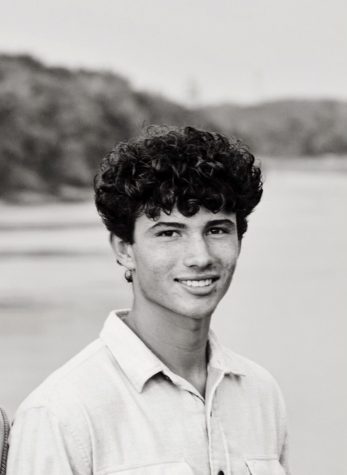 Trent Hogland, Reporter
Trent Hogland is a Junior reporter in his first year on the staff. He is a member of the A+ program as well as the Boys Basketball team. He also is a scholar-athlete...