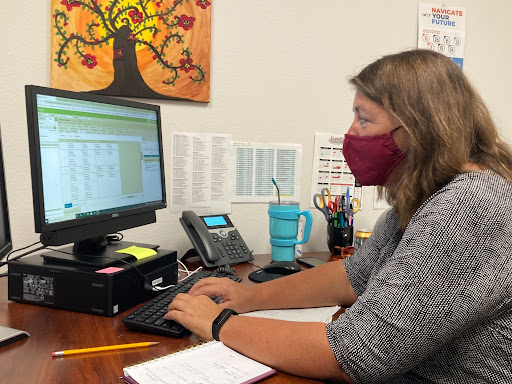 Lailah Bobo
In the counselor's center, near the end of the hall in the second to last door on the left sits new counselor Ms.Nancy Young. She sits at her neat desk with only a few papers laying under her and a pencil in front of her repeatedly emailing students and adjusting student schedules. The former counselor at the Raytown School District, who has been counseling for 28 years, has already become comfortable with the school and believes the staff and students that she's met have helped her.
"The staff has been really, really nice to me, which is very helpful," Ms. Young said. "So, when the students came in it was nice to meet them face to face because I didn't really get to meet a lot of students last year. The students have been great and friendly. They're very open to talking to me."
Ms. Young had briefly retired, but emerged from retirement and came to fulfill the advising duties at Fort. Aside from addressing requests for schedule changes from students, Ms. Young shows compassion to students by building connections with them. She helps them make decisions while in high school and even after graduation. Junior, Keidra McGaughy, feels Ms. Young is actually genuine and has a desire to help students.
"I feel like she's a good counselor and a good person," McGaughey said. "I can tell she has good intentions and isn't just in it for the money.
Ms. Young counsels sophomores, juniors and seniors with the last names of H-Q. As preparation for graduation for the 2022 class is near, students have consistently needed guidance as they prepare for their very near future. Senior Precious Plaisime finds that Ms. Young has already impacted her and is dedicated to helping her during her senior year.
"I do believe that Mrs.Young will impact me as a student," Plaisime said in an email. "Already, she has allocated her time and resources to assist me in completing a scholarship application."
Even though Ms. Young is available to 10-12 graders, during advisory she provides availability specifically to junior students. Aside from advisory though, Young is still able to guide sophomore, juniors, and seniors. Ms. Young really enjoys helping senior students as they prepare for leaving high school. She believes that guiding the seniors has been challenging but it makes her more persistent.
"I enjoy helping seniors plan for their life after high school," Young said. "It is so important that everyone leaves high school with a plan and I hope to spend this year working with each senior to help them put their plan into action. I have already been able to help a few with scholarship opportunities, college applications, and trade school/apprenticeship information.  It has been a challenge just because I am learning all students and staff at the same time. That just makes me work harder because I want to help them."
As the school day ends and students are less anxious about conferencing and are preparing to go home. Ms. Young makes final changes and sends her last emails to students. With the final clicks of her mouse, the last email is sent for the day. Her desk is still neat and organized, with the exception of a few disordered papers. As she pushes herself away from the desk and rises to leave, Ms. Young is relieved and pleased with her progress with helping students.