SZAs debut album"Ctrl" combines love and insecurities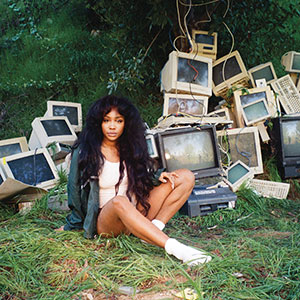 Hang on for a minute...we're trying to find some more stories you might like.
In SZA's fourteen track, R&B album "Ctrl" she explains her previous relationships; the good and bad things. "Ctrl" tells her coming of age story. It involves everything from meaningless relationships, the falsehood of love, and fighting her insecurities.
While listening to the album, I was entranced by SZA's empowering messages and voice. Her lyrics made me want to love my insecurities and made me realize that it's okay to have them. Nobody is perfect and learning to love the imperfections is what makes a woman powerful. In her song "Drew Barrymore" SZA represents herself as someone lacking confidence. In the song she deals with her insecurities and self-worth. In the second verse, SZA apologizes for her flaws, but her meaning is that she's not going to change for someone. Her flaws are what make her who she is. It isn't just imperfections that SZA is able to offer her insight on, but also heartbreak.
As someone who just got out of a relationship, I listened to this album for a month straight. The main song that stood out to me while going through the breakup, was "20 something." She explains in the song that her twenties are hard and how she's trying to balance her emotions, friends, etc. The lyrics that stood out to me in this song were "Why you ain't say I was fallin' short? How you lead me out so far away?" Mainly because she was left heartbroken and things ended out of the blue. She was left vulnerable, that's how I felt. As SZA goes on she explains that her "20 somethings" is the middle point in her life where she doesn't know what to do and she expects to find true love. I have yet to hit my twenties, but I can relate my teenage years and past relationships to this song.
While listening to the lyrics it made me realize that I shouldn't stress over the little things. Especially if it was something I couldn't control. I learned that I had to become independent.
I believe the point of the album is to show that it's okay to have meaningless relationships, unrequited love, and insecurities. They're all apart of life and those are things that can potentially make an individual stronger.
"Ctrl" has a parental advisory due to explicit content and is available for download on Amazon music, Apple music, and Google Play music.