2020 FOHS Teacher of the Year creates inspiring learning environment
Throughout the day, the door to Journalism Teacher Mr. Benjamin Merithew's class is ever revolving, each hour filled with a new set of students. Yet he remains unchanged, unfazed by the rowdiness and eager laughter that echo the walls of his class. The air inside flows with joy. 
The teaching staff at the high school recently voted Mr. Merithew the 2020 FOHS Teacher of the Year. He has positively touched students' hearts and helped develop their minds in the educational field for 19 years, 14 of those being spent as a high school teacher. The other five involved part time college teaching. He has taught at Texas Tech University, Concordia College, Hastings College, Truman High School and currently teaches Broadcast Journalism and Journalistic Reporting at Fort Osage High School. 
Mr. Merithew sees teaching as a form of communication, focused on the student and their own individual needs. He knows from experience that the secret to creating a safe learning environment is bonding with his students and working with them in a healthy way. 
"I have not taken a single class that deals with how to build solid relationships with students," Mr. Merithew said. "In essence, there is no method. It's you. It's the person you are."
Junior Broadcast Journalism 2 student Brady Parsons has been a student of Mr. Merithew's since his freshman year. He is now the play-by-play announcer for KFOI Sports and an anchor for the school's sports talk show, "Tomahawk Sports Talk." Mr. Merithew's class is his favorite. 
"It's almost like a family business," Parsons stated. "We butt heads but we always come together stronger and work hard as a team."
Mr. Merithew found his passion in teaching when he returned to college in 2003, in pursuit of his Masters in Art and Teaching. 
"Teaching was a natural thing for me," Mr. Merithew explained. "You have to love kids from 7 a.m. to 3 p.m. It's not working (a job) for me. I enjoy getting up everyday and tackling new challenges. It's a lifestyle for me to always be working with kids."
He strives to create a stable atmosphere inside his classroom, a place where you can be productive and enjoy learning as well. 
"You know you can be yourself in (Mr. Merithew's class)." Junior Mass Media student Cassidy Newberry said. "Merithew can tell when kids are having good or bad days and care's about when it's happening."
Newberry has always loved to write and is a reporter for "The Signal" website at fohssignal.net. She has known Mr. Merithew for years due to her sister being a student of his before her. She knows that he makes sacrifices for and is dedicated to his students. 
Over the course of his career, Mr. Merithew has formed bonds with students and remained in touch with them. He's even attended their weddings. 
Although he is honored that he won Teacher of the Year, Mr. Merithew remains ever humble and kind. 
"Every teacher in (Fort Osage) is a teacher of the year," Mr. Merithew concluded. 
At the end of the day, when the lights turn off, and the students clear out, Mr. Merithew takes time to reflect on what the students accomplished. He loves what he does. And nothing in the world could replace the love he has for his students, every heart he has touched and every future he has molded.
About the Writer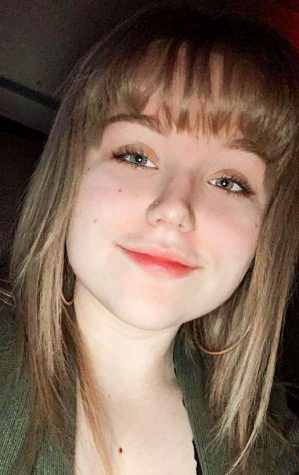 Dana Beattie, Reporter
Dana Lee Beattie is a senior in her first year on The Signal staff. She also joined the school's broadcast journalism class for the Spring Semester and...