3 students earn Scholastic Art Awards
Of this year's Scholastic Art Awards winners, three Fort Osage students have been among the recipients. Senior Allison Gant received an Honorable Mention with "Feeling blue" in the printmaking category. Sophomore Cora Fuller received an Honorable Mention with "Old Torn Photo" in the drawing illustration category, along with a Silver Key with "Bailey" in the same category. Junior Hailey Ferguson received a Silver Key with "Reading Ignites Creativity" in the mixed media category, along with another Silver Key with "Night time glint" in the painting category. 
Missouri students competed with Kansas, Nebraska, South Dakota, North Dakota, Minnesota, Iowa, Illinois, Wisconsin, Illinois, Indiana, Ohio, and Michigan.  Gant's "Feeling Blue" took 3 hours total to complete. Pop art had contributed to her inspiration behind the piece, particularly Andy Warhol. After Gant graduates she would like to start her own comics or animations. When she heard she had received an honorable mention she was excited.
"I was super excited to have gotten it as I've never received an award from this group specifically," Gant said in an email.
Every piece entered was considered for a Gold Key, a Silver Key, an Honorable Mention, an American Visions Nominee Award, and an American Voices Nominee Award. Fuller received an Honorable Mention along with a Silver Key. It took seven hours for her to complete the portrait and six hours to complete the still life picture. After she graduates, she would like to attend art school. Fuller was surprised when she received an honorable mention and a silver key because of the amount of people who had also submitted pieces. She enjoyed working on her submitted pieces.
"It was cool because it was also of my friend and I enjoy doing realism art," Fuller said in an email.
Ferguson received two Silver Keys. It took her a month to work on the dragon head and she continues to work on it, while it only took her two days to finish the sparkler painting. After graduating, Feruson would like to attend Kansas City Art Institute and major in illustration. Childhood memories inspired Ferguson to paint a sparkler, while a challenge inspired her to make the dragon head.
"I was challenged to bring a story to life and I thought a dragon would be challenging to bring to life," Ferguson said in an email.
Entries for the 2021 Scholastic Awards opened on Sep. 1, 2020 and closed on Dec. 15, 2020. Every work entered into the contest cost $7 and each portfolio cost $25.
About the Writer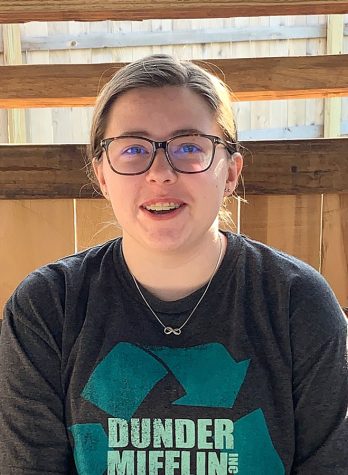 Sarah Short, Reporter
Sarah Short is a junior reporter in her second year on The Signal staff. She plans to stay with the Signal for the rest of her high school years. She enjoys...