Aspen Deke's warmth, kindness will be missed
Laughter is heard throughout the house, Aspen opens her birthday presents as everyone else watches her, Breyana Cox and I decide to start stacking the chairs we were sitting in on top of each other, Aspens brother Evan starts throwing rubber ducks at Breyana and I and a full out war starts, Aspens mom is filming the whole thing as the chaos continues, the ducks are still being thrown as everyone hears, "It's a box inside a box," as Aspen opens up another present, her mom starts to record her again and the room is filled with laughter and joy as the present opening continues.
Aspen Deke passed away on Jan. 30, 2021. Aspen had battled with cancer for most of her life being diagnosed with Leukemia when she was just four and relapsing in her freshman and sophomore years of high school. She beat cancer but in November of 2020 came down with COVID-19. The illness took over her body because she didn't have the immune system to fight it off. COVID-19 is what ended up being Aspen's cause of death. 
Aspen is survived by her parents, her two brothers, her grandpa and her memaw, many cousins and aunts and uncles and her dog Jack. Aspen was full of love and kindness. She wanted nothing more than to be with her family and friends all the time, she was full of plans of when everyone would get together next. She loved to bake and would message all of her friends months in advance to see what type of cake or cupcakes they wanted. Aspen loved to draw and paint and loved making her friends different homemade gifts and things that she knew they would love. She was part of the culinary class at the CTC and a part of the band as a flute player. After everything she had gone through you wouldn't have even been able to tell that she had been through as much as she had. She was still always filled with joy and positivity and no matter what put her family and friends first.
I will truly miss my friend. Aspen had become my sister and my heart is heavy knowing that such a bright light in my life will no longer be there. I will forever miss the countless bonfires and sleepovers we had and I know that our group of friends will never forget how much she meant to us. Aspen will live on in the memories that her family and friends will continue to share, these stories will be told to future generations to ensure that the story of such an amazing girl never gets forgotten. Her parents hope that her story will have an impact on so many and that people will learn to forgive and love unconditionally and be the new Aspens of the world.
About the Contributor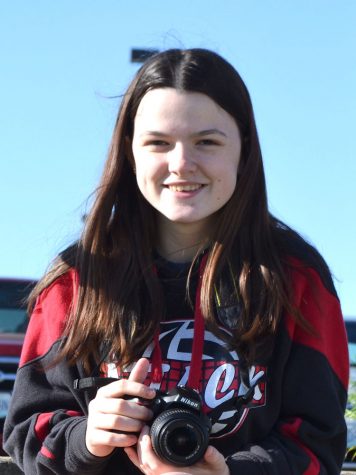 Julia Couch, Reporter
Julia couch is a sophomore in her first year on staff. She enjoys writing features to cover the top athletes in our school. Julia is a member of the A+...