Domanski shows leadership in senior season
The blow of whistles settle against the green turf, fueling a start through the cleats of black and white uniforms. Suited lines break into clusters of offensive players. The ball is passed to quarterback Greg Menne who begins to direct the play. Offensive lineman block out the opposing defense, Senior Fullback Zach Domanski brings linemen to a halt as the ball is put into play. 
Domanski has been playing football since freshman year, this is his second year playing on varsity. Domanski also played basketball his Freshman and Sophomore year, playing as a forward or as a center. Domanski sees sports as a great way to meet people and be involved. 
"Sports has been a great way for me to introduce myself and meet new people," Domanski said. "Now I take younger kids under my wing and show them what the school is like." 
Domanski wants to continue playing football through college. He plans on going to Texas A&M to major in communications. His friends describe him as caring, an amazing friend and a hard worker.
"Zach has just helped me become a better person, it's easy to change and work towards being better when you have a good example to model after," senior defensive back Blake Williams said in an email. "He's always doing the right thing and being respectful."
On game days Domanski gets to work from the moment he wakes up. Getting up early, stretching, getting in a good meal and watching film is the beginning of his day. He likes to listen to others playlists, based on his mood, while stretching and warming up. Domanski's advice for other players sticks to his hard working attitude. 
"Always hustle," Domanski said. "Effort beats anything, it will always beat talent."
Domanski currently has 100 yards rushing in his senior season. Sophomore quarterback Greg Menne looks up to Domanski.
"Zack worked very hard and always stayed positive even in the worst times," Menne said in an email. 
The sidelines turn into a haze of shouts and cheers as the ball is moved across the field. Stands rattle with the shuffling of onlookers. Running backs slip through the cracks their linemen create to reach the end of the field. Shouts of players and spectators grow as the ball inches towards the end zone, finishing in a celebration as six points hits the board.
About the Writer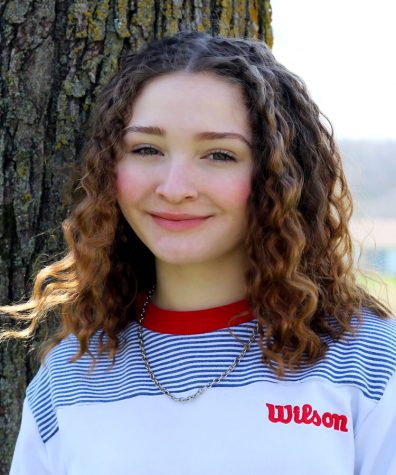 Cali Roberts, Reporter
Reporter Cali Roberts is a Junior at Fort Osage High School. This is her second year being on staff, focusing primarily on sports. Cali took 2nd in the...