'I'm Not Okay With This,' offers an array of emotions
I've always liked quirky movie characters. Sydney Novak from the Netflix Original series, "I Am Not Okay With This," brings out a new meaning to quirky. The series is directed by Jonathan Entwistle and based on Charles Forsman's novel, "I Am Not Okay With This," written in 2017. The drama/comedy has 7 episodes in the first season, each 20 to 30 minutes long and is rated TV-MA.
After moving to a rinky dink town in Pennsylvania, Sydney, portrayed by Sophia Lillis known for her role in 2017 film, "It," and 2019 film, "It: Chapter Two," has to deal with her feelings over the loss of a loved one. As she starts at a new school with her best friend Dina, portrayed by Sophia Bryant, who is also new to the small town. Sydney's suppressed feelings of grief soon turn to anger and she starts to act out. Through her anger she finds that she has telekinesis powers that are out of her control. Her friendship with Dina and her neighbor Stanley Barber, portrayed by Wyatt Oleff also known for his role in 2017 film "It" and 2019 film "It: Chapter Two," start to complicate throughout the series. Sydney has to deal with her conflicting feelings for both of her very different friends while also having the space to grieve. 
No one could have portrayed Sydney better than Sophia Lillis, the entire show was casted perfectly. The actors add realistic personalities to each character and every episode ends with you needing to watch more. I feel that having two actors who have worked closely before helped in making Sydney and Stanley's friendship feel so authentic. 
One thing I found interesting was the vintage setting of the show mixed with the technology that we have now. My favorite thing about the show is Sydney's confusion about who she is, and her eventual self discovery. The most difficult part of the show was the interactions Sydney had with her mother. The scenes made my blood boil. However it adds to the lack of communication and compassion her mother has for her and gives you background on why Sydney acts the way she does. Some of Sydney's attitude was just common teenage bickering, which made the show easily relatable. The only disappointment to this show is not having a second season.
About the Writer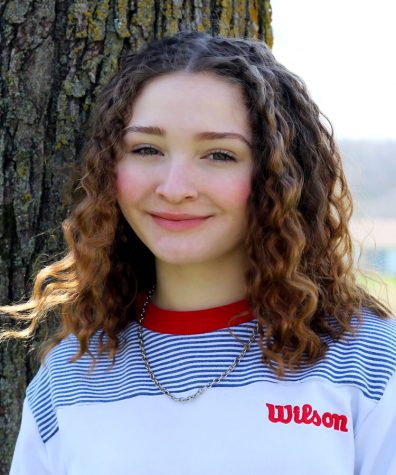 Cali Roberts, Reporter
Reporter Cali Roberts is a Junior at Fort Osage High School. This is her second year being on staff, focusing primarily on sports. Cali took 2nd in the...