Martinez gaining new experiences senior year
Cali Roberts - Photojournalist
A sharp buzzer rattles the wood floor. Red and white jerseys run to their positions on the court. Colston Martinez's hands shoot up, closing out against the offense. His hands hover to match the motions of the moving ball. His quick movements allow him to steal the ball and look for the outlet 
Senior guard Colston Martinez has been playing basketball since he was three. He played for an assortment of teams during the summers when he was growing up. Martinez started playing because he loves watching basketball. This is his first year starting on the varsity squad. Martinez keeps his advice for younger players straightforward.
"Just work hard, stay positive," Martinez said.
If Martinez were to get an offer to play basketball in college he would accept it. He plans on going to college, possibly to study business, whether he gets an offer or not. Martinez motivates his teammates on and off the court.
"Colston, he's just a hustle player," junior Danny McArthur said. "He's always giving his best effort, he's always going after it everyday. When you see a teammate doing that it really motivates you to do the same."
Martinez's teammates describe him as always having a good attitude and a competitive spirit. He enjoys his teammates and the energy of the game. Junior Will Snodgrass feels that Colston is a reliable player. 
"He makes me better every single day when we're practicing together," Snodgrass said. "My favorite part about playing with Colston is you know he'll never give up on you and he'll always fight with you till the end."
On game days he likes to listen to 21 Savage and Chief Keef to get into the right mindset. Outside of basketball he likes to workout and hangout with his teammates and friends. 
"My favorite memory (with Colston) would be going to CBE (The College Basketball Experience) and having a dunk contest," junior Nathan Dunne said.
Colston passes the ball off the Senior Guard Miles Dunfield. Coach Wilson's voice echoes throughout the gym as he shouts out a play. Colston then moves into his offensive position in hopes of helping the team score.
About the Contributor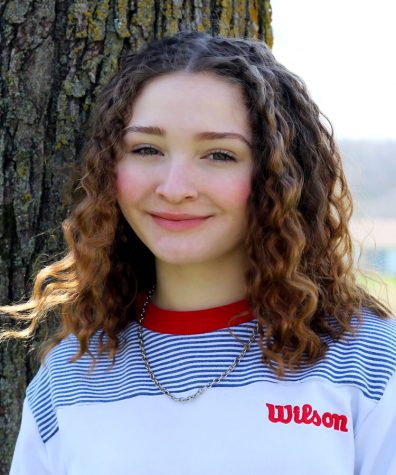 Cali Roberts, Reporter
Cali Roberts is a sophomore in her first year on The Signal staff. She focuses primarily on sports and took 2nd in the Online Breaking Sports Content category...