McGill brings 12 years of experience to Special Education Department
A small room sits tucked away from the wide school hallways and is filled only with the sound of a lonesome air conditioner and the sight of a swiftly moving pen. As a fast hand skate across the pages leaving only ink behind, the naked hallway fills with kids' footsteps and their desire to stop and talk. When the bell rings loudly, her pen stops and she begins to stretch her arms. She stands, stretches her legs, takes a big sigh, and proceeds to continue working.
Ms. Stephanie McGill has been working in education for 12 years and has just begun at Fort Osage this year being a Special Education Process Coordinator. Before coming to this school she worked in the Liberty School District. Being a process coordinator, she is part of the special education department that includes 14 teachers in total. Ms. McGill's duty is to read through documents and finalize them. Some of those documents include annual Individual Education Plan (IEP) reports, evaluation reports, and end of semester progress reports. A process coordinator is also in charge of handling new students who are transferring into this school. Having to read through many documents a day, Ms. McGill was quick to describe her job.
"Paperwork, paperwork, paperwork," Ms. McGill said.
According to Ms. McGill, there are currently 180 students at Fort Osage that qualify for a special education plan which means that there are teachers that need to come together and decide how a student should be taught. One of those teachers is Ms. Terri Price. Ms. Price is currently a special education teacher at Fort Osage and also participates in supporting English teachers and students. She has noticed that Ms. McGill has embraced the new hybrid and virtual school and has been willing to listen to coworkers. Ms. Price believes that she will have a positive impact on the students and will continue to have one on them.
"Ms. McGill is someone who is willing to put in the time and effort to help everyone have a successful year," Ms. Price said in an email.
As the students and staff push through the beginning of the school year, the virus has yet to slow down. Coming to a new school in the middle of a pandemic can bring unforeseen challenges, especially to a job with such a big responsibility. One of the teachers who noticed this is Mr. John Liebnitz. Mr. Liebnitz is a special education teacher who works with other teachers every day. It takes a hardworking person to be a good process coordinator.
"She has one of the most challenging jobs in the school district and puts in a lot of extra work hours in order to keep up," Mr. Liebnitz said in an email.
The lunch bell rings and a smile spreads across the face of hard work. Ms. McGill finishes her last piece of paperwork and welcomes her well-earned lunch break.
About the Writer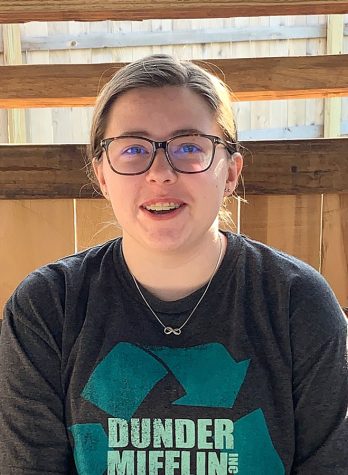 Sarah Short, Reporter
Sarah Short is a junior reporter in her second year on The Signal staff. She plans to stay with the Signal for the rest of her high school years. She enjoys...