Schaller finds support from colleagues
The bell rings and students flood the classroom, students pick up a paper towel and take it to their desks. They stay seated waiting for class to start. Desks fill the classroom with tape on the two desks in the middle for social distancing. A teal and white rug lay underneath the smart board for a feeling of comfort. Ms.Rachel Schaller stands at the front of the class to begin the lesson of the day.
Ms.Schaller joined the Fort Osage High School teacher at the start of this year.  Ms.Schaller worked at Bonner Springs Kansas for two years and Shawnee Mission Kansas for four years before coming to Fort. She believes the school has a very good community and has a very supportive staff.
"My first impression of Fort Osage was the tremendous amount of community and the positive relationships that we all have towards one another," Ms. Schaller said. "The staff is very supportive, the administration is very supportive and we all come together as a community and the Fort Osage School is kinda the glue that holds us all together."  
She teaches Geometry and Intermediate Algebra ll. Senior Gabrielle Stewart enjoys the way Ms.Schaller teaches.
"She always makes it entertaining to learn," Stewart said.
Ms. Schaller's favorite thing about math is all of the relationships and connections that you can make. Junior Dominic Urnise feels she does things differently than other teachers.
"She does things differently than most teachers," Urnise said.
Ms. Schaller received her education degree at Emporia State University. 
Ms. Schaller appreciates the family feeling at Fort. She loves the support everyone has for each other. 
"My favorite thing about teaching is working with kids and forming relationships with them," Ms. Schaller said. "(I love) helping them to grow not only as a math student but as a young adult as well." 
The bell rings to dismiss the next class, Ms. Schaller walks around the classroom and sprays all the desks that every student was sitting at. The students wipe down their desk's with their paper towels then leave the classroom to head to their next class.
About the Contributor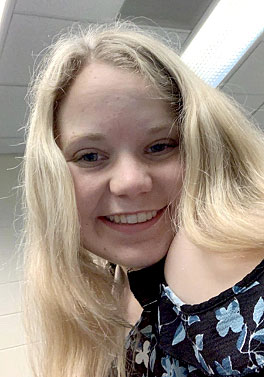 Cassidy Newberry, Reporter
Junior Cassidy Newberry has been attending the Fort Osage school district for 12 years. This is her second year on The Signal Staff. Cassidy enjoys drawing...