Singers ready for fall concert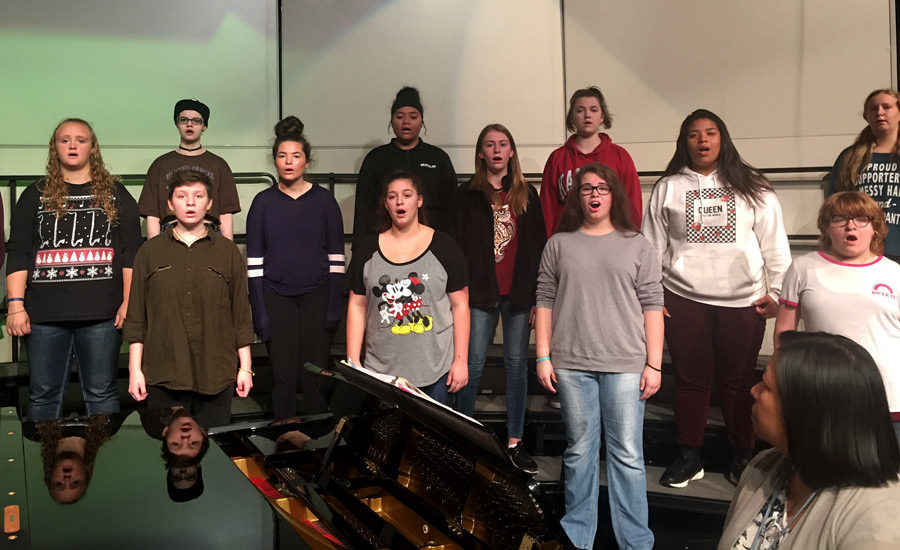 The first choir concert of the 2018-19 school year is set for Thursday, Oct. 18 and will include Touch of Class, Setting The Tone, Concert Choir, Treble Choir, Womens Choral and Touch of Class for a Day. Choir Director Ms. Julie Ammons has been working with these groups since August to improve their vocals and prepare for the night.
"I think people will enjoy it, the kids have worked very hard and there's a lot of variety," Ms. Ammons said.
Ms. Ammons has dedicated this concert to her parents and themed the songs around love for them. She believes that the crowd will be entertained by the performance and enjoy the song choice.Mariah West, who has been in choir for three years, feels excited with some of the song selection for the night.
"There's a lot of us that are very talented," Mariah said.
Freshman Desirae Holder thinks that this performance will get people excited for choir, especially eighth graders looking to join in their freshman year. Holder is very pleased with the song selection. Her favorite is "Agnus Dei," a Latin song being sung but Setting the Tone. She believes this is going to be an amazing first concert and will really display the talent of the school's choir.
The concert is free and begins at 7 p.m. in the High School Performing Arts Center. Ms. Ammons is accepting cans and other non-perishables as well on the night to provide for a nearby homeless shelter.