Teens able to work 'essential jobs' during COVID-19 shut down
Junior Aubri Stewart walks in to Panera Bread and puts on a black mask, gloves,and her green apron. orders start coming in and work gets started for the day. She walks outside to deliver a customer's order and makes sure to keep her distance, she walks back inside and instantly washes her hands and changes her gloves after the exchange with the customer.
Every student who works has gone through changes with their jobs following the COVID-19 global pandemic. Certain businesses have shut down while others are only doing curbside pickup. Over 24% of teens work in the higher risk industries that have faced closure during this pandemic, and some of the more "essential" jobs such as restaurants and grocery stores have started requiring employees to wear masks while working and changing policies when it comes to customers. Sophomore Keily Farmer feels Plowboys has taken precautions when it comes to the safety of their workers and customers.
"We have one employee taking money and one giving the food so the gloves never touch the money and the food," Farmer said. "Every surface is wiped down with bleach wipes or sanitizing spray multiple times a day. Our bathrooms are cleaned multiple times a day, and we are always wearing gloves and masks." 
Students have started having to balance work and online school because they have started working at times they would usually be in school. Some jobs have made it to where their workers that are still in school still work their usual hours they would be working if school was in session so they don't get behind on school work. Junior Rheanne Branstietter works at a local nursing home and her schedule hasn't changed during the Stay at Home Order.
"I don't work during the day time," Branstietter said. 'I work the night shift because my boss wants me to be able to do school work."  
Food service jobs require gloves and masks to be worn. Drive-thrus have put up plexiglass shields  at the windows to minimize contact with customers. Businesses have also changed the layout of their buildings because lobbies have been closed. A majority of the orders are online or over the phone. Stewart feels that work has been less challenging during all of this. 
"Working in quarantine has been easier because sometimes we have lighter rushes because there can't be any customers inside," Stewart said.
The rest of the day is like clockwork, orders are brought out to customers, gloves are changed and hands are washed as often as possible. Everything gets sanitized every 30 minutes as the day goes on. Stewart realizes everything has changed as she looks out into the empty lobby.
About the Contributor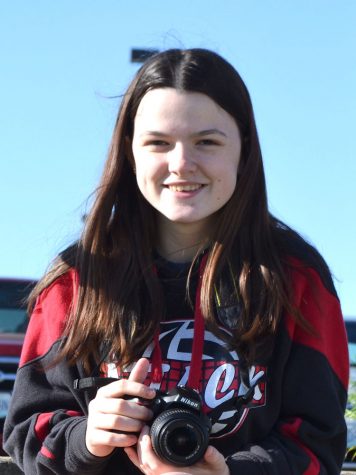 Julia Couch, Reporter
Julia couch is a sophomore in her first year on staff. She enjoys writing features to cover the top athletes in our school. Julia is a member of the A+...