Traditional film animation still provides great storytelling in 'Wolfwalkers'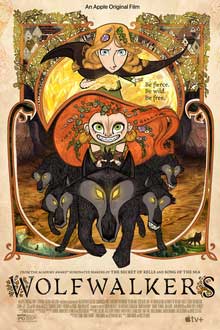 In a world of computer-generated animation, "Wolfwalkers" (PG) is a beautifully crafted film that revives the forgotten craft of hand-drawn animation. Available on Apple TV with stunning storybook visuals that seemingly come alive that tell a touching tale of family and love, "Wolfwakers" is a must-see for fans of all ages who appreciate and love animation. 
The story follows Robyn (voiced by Honor Kneafsey), a girl with dreams of becoming a wolf-hunter like her father (Sean Bean). After a failed attempt at killing a wolf, her hawk is gravely injured and kidnapped by a wolf. When she follows this mysterious wolf into the woods, she discovers the world of Wolfwakers; magical humans who transform into wolves when they sleep. Robyn befriends Mebh (Eva Whittaker), a young, eccentric girl, who, after biting Robyn, shows her the arts and ways of becoming a Wolfwalker like herself. Amidst war and the outlawing of wolves, the two girls go through trials that test their friendship and love for their family while learning how to accept their wild side. 
"Wolfwalkers" is a part of a trilogy of movies created by Tomm Moore, director of "The Secret of Kells" and "Song of the Sea" and co-director Ross Stewart that are a love story to folklore and history. The film is loosely based on the conquest of Ireland under the Lord Protector, Oliver Cromwell, and the extinction of the country's wolves. They give a breath of new air to old folklores and the rich history of Ireland and create a world that's full of life and imagination with realistic characters and dynamics. 
The art and music are what steals the show for this film. You can practically taste and feel the hard work and true, undying passion that went into it. The animation made by multiple talents including James Baxter, animator in 1999's "Prince of Egypt" and shows such as 2013's "Adventure Time", is vibration and sketchy as if a watercolor portrait came to life. The music composed by Bruno Coulais, who worked on other stunning films such as 2009's "Coraline", and art dance together into a perfect combination that leaves the viewer speechless. It has a childlike wonder to it, with playful colors and scores that make the viewer entirely engrossed in the film while still keeping the tense and dramatic undertone. 
"Wolfwalkers" is easily one of the best animated films I've ever seen. I came in with high expectations, after seeing how highly it was praised, and it still blew me away. It has so much life to it and is bursting with talent and vibrancy that it left me in awe and inspiration. As a fan of animation and history, it's refreshing to see a movie so well crafted with love and passion with a whimsical score. The characters have so much personality while still being realistic and fun all at the same time. I highly recommend "Wolfwalkers" to anyone needing a good watch and seeking inspiration in the vast field of animation.