Updated 'Little Women' movie offers emotion for all
I have always admired the spirit in those who choose to take on the challenge of developing a movie from a book. Directors know that when they choose to adapt the movie from the book, they will always get backlash from the book readers. I have always been a fan of movies that were inspired by books and true stories. Sometimes books are much more detailed and allow you to see the deepest thoughts of a character. But there is something about a movie that, when casted correctly, shows so much emotion you might not be able to see when you read the book.
The newest adaptation to film of Louisa Alcott's book, "Little Women," was directed by Greta Gerwig and scored by Alexandre Desplat. "Little Women" opened in theatres on Dec. 25, 2019 in the United States and lasts a total of 2 hours and 15 minutes. The film stars include Saoirse Ronan (Jo), Timothée Chalamet (Laurie), Emma Watson (Meg), Florence Pugh (Amy), Eliza Scanlen (Beth), and Laura Dern (Mary).  
Based heavily on the book, the movie continuously switches from adulthood of the four sisters and childhood. Jo resides in New York and struggles with writing stories and writing them so they are enjoyable for herself and the readers. Amy lives in Paris with Aunt March and runs into a childhood friend, Laurie, who once again peaks her interest. Meg, the oldest, marrys John Brooke, a tutor to Laurie, and they have two children together. Beth struggles from the aftermath of obtaining Scarlet Fever and once again falls ill. Because of this the two sisters return to Massachusetts and attempt to nurse her back to health.
 There are some moments in life that completely take your breath away and cover you in goosebumps. It doesn't happen very often but when it does you're sure to remember that for the rest of your life. I'm amazed to say that a couple of scenes took my breath away. Visually they were so beautiful. One scene is when Amy and Jo are on the beach after Jo returns home from New York. They sit side by side on a blanket and they ponder Beth's future considering the worsening of her condition. They have a discussion about what Jo has been writing. Beth makes Jo promise her that she'll write for Beth even when she's gone. Beth lays her head on Jo's shoulder while Jo reads some stories she's written. The shot changed to a wide angle and the sand was blowing from behind them. It was such a simple scene but so breathtaking.
Another scene was when Amy gets her hand hurt and Mr. Lawrence, Laurie, and John Brooke help her put some bandage around it. Jo, Amy, Meg, and their mother, Mary all enter at the same time. The viewer sees Laurie falling in love with Jo and Jo falling in love with books. Amy admires the paintings that hang from the study. This scene is the first that Meg and John Brooke introduce themselves to each other. Mr. Lawrence also invites Beth to come over whenever she wants to play the piano. This becomes a tear jerking scene later on in the movie. The finishes with all the sisters and Mary leaving. They leave while talking loudly and vibrantly, and they leave the three men just standing in silence. The scene was beautifully chaotic.
So far, the movie has collected $113.6 million in the box office. The movie has been awarded Critics' Choice Movie Award for Best Adapted Screenplay, Gerwig, who has also directed "Lady Bird" and "Nights and Weekends," was awarded National Society of Film Critics Award for Best Director, Dern, who has won at least 11 other words, was awarded National Society of Film Critics Award for Best Supporting Actress and New York Film Critics Circle Award for Best Supporting Actress, and Ronan, who has been in 27 other movies, was awarded AACTA International Award for Best Actress.
Because the movie focuses around an almost all female cast and centers around female empowerment, men might consider the movie to be too feminine to watch. Men might be afraid to think that they'll be sacrificing their manliness when they watch the movie. Although they might be afraid, the movie is something everyone, men and women, can learn from. So I challenge any man to watch the movie and cry at powerful moments and laugh at the awkwardly hilarious moments because a good movie should be appreciated by everyone.
About the Writer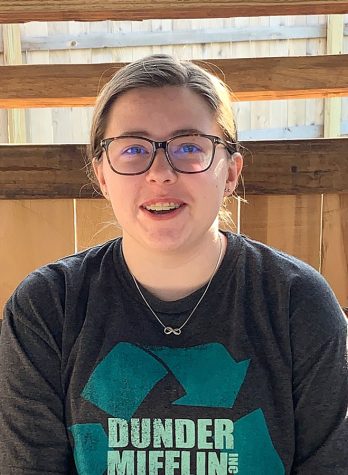 Sarah Short, Reporter
Sarah Short is a junior reporter in her second year on The Signal staff. She plans to stay with the Signal for the rest of her high school years. She enjoys...