Virtual learning establishes new norms
Senior Sean Moore wakes up to his 7 a.m. alarm. He walks to the kitchen to eat breakfast and have a morning cup of coffee. It doesn't take much to prepare for the day, so Moore heads to class, or back to his room to sit at a desk. Several months ago, never leaving the house for school seemed like a fantasy. However, what was once a dream may prove to be a difficult reality. 
Online/Virtual learning has existed since the early 2000's, but this is the first time in history it's being performed on a mass scale. Studies collected by Kent State University and analysis from the U.S. Department of Education has concluded there is not a significant difference in student success between face-to-face and online learning. That said, part of instruction in the research includes the ability to learn with teachers and peers. Switching from a completely in-person environment to at home has caused everyone to make adjustments. 
As Moore begins to work on his Chromebook, he begins to plan out tasks he needs to accomplish. With a sigh, he realizes how different his last year of high school could have been. Moore deeply misses attending class with friends and teachers surrounding him. 
"You definitely have to be motivated," Moore said over FaceTime. "It is absolutely up to you to get the work done on time and with a schedule." 
Some virtual students, however, are satisfied with their flexible schedule. Virtual learning can allow them to work ahead or knock out tasks faster. There is more opportunity to take breaks when needed, or prioritize which assignment's due date is closer. Even though the new learning environment has some positives, one negative is missing out on in-person connections. Relationships with fellow classmates and teachers is something that is harder to build on a computer versus talking after class. Senior Haleigh Wilson doesn't believe the social interaction is the same. 
"I feel like that's something we kind of took for granted before it was taken away from us," Wilson said over FaceTime. "I feel like it's one of those things that you don't realize what you have until you don't have it anymore."
Moore messages his friends for a quick touch up, or thoughts on his work. As an efficient learner, he knocks out his assignments quickly. Moore manages most tasks on his own, but still occasionally asks questions on Google Meet. Unable to raise a hand in person, he has to find other methods of assistance. 
Previously, checking on student progress used to be a simple class discussion. Currently, students are working on individual projects that were once part of group activities. Not only are students navigating the new learning environment, but so are the teachers. Effective communication is essential, although, asking for help now looks like a detailed email, an appointment for a Google Meet, or other electronic methods. This extra step adds another task virtual students and teachers have to tackle. Business Teacher Ms. Sarah McIntyre believes it is more work, but is proud of how everyone is handling it. 
"It's really refreshing to me to see how independent so many students have become," Ms. McIntyre said over Google Meet. "I personally have been really impressed by the initiative students are taking to get what they need."
At the end of Moore's school day, or a few hours, he reviews what projects he has accomplished. After working ahead or planning for tomorrow's tasks, he closes his tabs and shuts his Chromebook. He didn't expect senior year to only exist on a computer. Although, Moore is continually making the best of managing a new normal.
About the Writer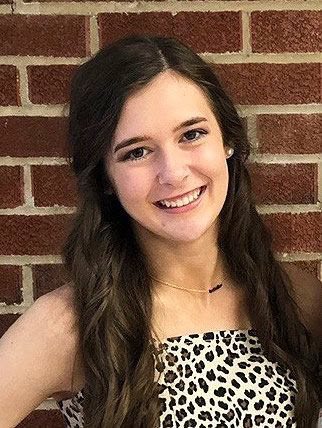 Isabella Yennie, Reporter
Isabella Yennie is a member of National Honor Society and Indianettes dance team. She is also a two time All Fort Osage recipient and Scholar Athlete....