Football: Defense sets the tone in season opening loss
Photojournalist Cali Roberts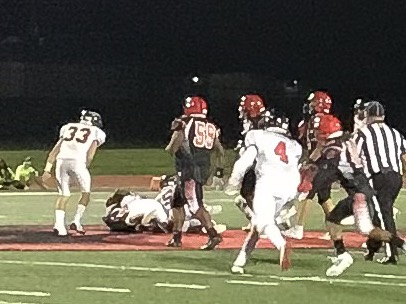 Story by Cali Roberts, Reporter

Hang on for a minute...we're trying to find some more stories you might like.
The Indians Varsity Football lost 6-0 to the Raytown South Cardinals Friday Aug. 30. Indians Head Coach Brock Bult took over as offensive coordinator after being defensive coordinator for his entire career.  He felt disappointed by the loss. 
"Obviously we're not happy," Coach Bult said. "Our kids played hard. We couldn't be more proud of that. Our defense, once again, showed up and played, we can always count on that. We just have to get things cleaned up on offense."
The Cardinals took the lead on their first offensive possession of the game with a touchdown. The extra point was blocked by the Indians. Senior wide receiver/running backDominic Myers thinks the game allowed them to learn.
"We couldn't really score on offense but the defense really held their own,"  Myers said. "It was my first game back from last year. I tore my ACL. I missed 5 games last year. There were a lot of emotions running through my mind but through the second half I got settled down and got focused. I feel like this week we'll have a good week of practice and we should beat Lee Summit West." 
Myers rushed for 122 yards on 27 carries. Senior Linebacker Dakota Robertson led the defense with two sacks. He is staying optimistic about the Indians abilities. 
"Honestly, I think our defense performed well," Robertson stated. "Our offense definitely needs to improve. I feel like we are going to improve through the season."
The Indians totaled six turnovers by the end of the game. The loss brings the Indians to a 0-1 start for the season. The team takes on Lee's Summit West on the road on Friday, Sept. 6 at 7 p.m.. The game will be broadcast by KFOI Sports on  the NFHS Network.