Two students earn top 20 honors in 'Kindest Kansas Citian' essay contest
The room is silent as students proceed to write down ideas for the upcoming assignment. All that is heard is the sound of pencils writing on paper and fingers tapping on keys. Every person has an adult figure in mind and is hoping to write about something that truly matters to them. They finish their papers and fill out the form in order for their essays to be considered for the contest.
According to Counselorsphs.weebly.com, kindergarten through 12 grade may participate in the essay contest "Kindest Kansas Citian." Although it is a writing contest, kindergarten through second grade can submit a drawing with a one sentence description. Groups, couples, and individuals can be nominated for the contest but they cannot be related to the person writing the paper. The top 20 students selected will participate in an awards show, taking place on May 1, highlighting each nominated adult. This year only two Fort Osage students were selected to be in the top 20. Sophomore Jaelynn Oliphant wrote about Gail Stringer, a woman who regularly helps with the Red Cross. When she first heard the news, Oliphant knew she had to tell Ms. Stringer. 
"When I told her, at first she was confused and then she was honored," Oliphant said.
In order for the paper to qualify in the top 20 honorees, the essay must be accompanied by an official contest form with the required information. According to Counselorsphs.weebly.com, "Entries should demonstrate the positive impact the nominee has made on the student's life." Sophomore Grace Iloilo, the other student who was selected to be in the top 20, wrote about Dr. Anne Farmer. To Iloilo, Dr. Farmer is one of the kindest people she knows. When she told Dr. Farmer about her essay, she knew she had made an impact in Dr. Farmer's life.
"I think when people hear positive things about themselves it lifts them up," Iloilo said.
Fort Osage High School has participated in the essay contest for five years now. Another 12 students from the school earned an honorable mention as the top 100. Those students include Juliann Burke, Heather Chiesi, Baylee Dalton, Sarah Rellihan, Evan Funk, Madison Hasty, Tayler Hines, Brenden Johnson, Gage Katzer, Meredith Joyce Peterman, Damien Sammon, and Nate Smith. 
Every year, at least one of our students has been selected to be in the top 20. Almost 5,000 essays were entered this year. Sometimes, people do not always know how appreciated they are. Although kindness is universal, it could easily be fading away in generations to come. 
"It is always nice to have someone appreciate you, and taking the time to provide that is a skill we all should develop and share," English teacher Mr. Dial-Scuggs said.
The students found out who the 14 students who had their essays selected were and congratulated them. Although others may not have been selected, they have learned to acknowledge and appreciate those around them.
About the Writer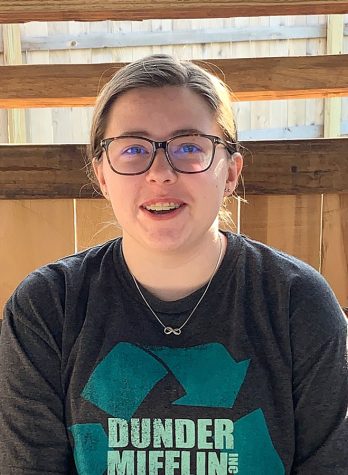 Sarah Short, Reporter
Sarah Short is a junior reporter in her second year on The Signal staff. She plans to stay with the Signal for the rest of her high school years. She enjoys...