Art student earns Governor's Choice Award
It's the fifth hour of the day and the class is as noisy as ever, but that doesn't stop junior Allison Gant. She is hunched over a blank piece of paper and her mind is going through endless ideas. Suddenly she has a feeling of nostalgia. Gant begins the process of drawing the skeleton of her newest project. She'll call it, "Olde Town Road."
Gant is the first Fort Osage High School student to be awarded the Governor's Choice Award. She will be recognized for her art work on March 16 at the State Capitol in Jefferson City as part of the Youth Art Month celebration. The colored pencil drawing features an old pick up truck with a rounded hood next to what seems like an old timey gas station. In the background you can see trees and a light hanging from the roof of the gas station. It feels as though you're inside the gas station looking out. It takes a good piece of art to make someone feel something while looking at it. 
"Although I have no past experiences in the place the art is replicating, I just get that feeling with the old timey gas station and car," Gant said.
Gant will also have several pieces featured at the Festival of Colors taking place at the Independence Sermon Center on April 15 and the All District Art Show taking place in the High School West gym on April 22. The pieces of art include a self portrait reduction print, a self portrait drawing, a prismacolor figure drawing, and a self portrait watercolor. According to Art Teacher Kim Meneses, all districts around the state participate in the Governor's Choice competition, the odds are very small that a student here at Fort Osage could win the award. 
"Allison is a very talented student and a great pleasure to teach.  She is always willing to listen to constructive criticism to make adjustments or improvements to her artwork," Ms. Meneses said.
  Hard work paid off for Gant in the end. Not only will she have the opportunity to travel to Jefferson City this year, she will also have pieces of her art featured in more than one organized event. She will also have an abundance of opportunities since she is only a junior. Those around her are very proud and impressed.
"I was happy that she was finally recognized for her work," Junior Emelia Acevedo said.
Gant realizes that her single hour everyday won't allow her to finish her work in time. She takes the art home and works until she's happy with where she's at. The next day she brings it back and continues to put her colored pencils to work. She smiles at her creation and is happy at what she has accomplished.
About the Contributor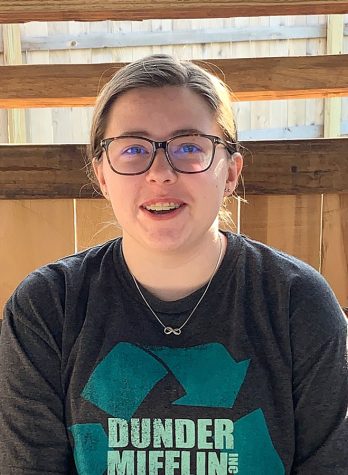 Sarah Short, Reporter
Sarah Short is a junior reporter in her second year on The Signal staff. She plans to stay with the Signal for the rest of her high school years. She enjoys...