District provides lunches for families during school shut down
The District started handing out free lunches on Tuesday, Mar. 17 and will continue to hand out free lunches until the end of the school year. Children under the age of 18 can pick up meals Mondays and Thursdays, from 10 a.m. to 12 p.m, Blue Hills Elementary, Buckner Elementary, Elm Grove Elementary, Cler-Mont Elementary, and Hawthorne. Monday's lunch will include food for both Tuesday and Wednesday. Thursday's lunch will include food for both Friday and Saturday. Food Service Director Stacie Waller knew that she had to start preparing as soon as possible.
"We started planning this program the minute we knew we would be closing school," Ms. Waller said in an email.
According to Waller, an average of 1,250 lunches are given away each day. The bags of food include uncrustables, deli sandwiches, chips, a fruit, a vegetable, and a milk and juice. Breakfast items are also included. On occasion the school will put a burrito or a chicken sandwich in the bag. The meals are served on a first come first serve basis. Junior Rayden Frerking picks up meals for himself and his siblings from Cler-Mont and appreciates what the district is doing.
"Meals help my siblings more than anything," Frerking said in an email. "(I) just gotta be grateful to get anything at all."
Two to three people are used to sack the school meals and two to three volunteers help pass out the food each day. Head Volleyball Coach and Physical Education Teacher Vanessa Gage volunteered early on to help hand out meals.
"I signed up to help because I just felt like there was a service that was needed and I wanted to be involved," Coach Gage said in an email.
The school district is currently paying for the food and the state reimburses them for some of the costs. It is important to prepare for something such as serving bags of food for an unknown amount of children weekly.
"We are prepared to continue this program as long as it is needed," Ms. Waller said in an email.
According to the Fort Osage App, if the family arrives by car, they are asked to stay in their vehicle and pull into the circle drive. If they arrive by walking, a line should form by the front door along the sidewalk at each location.
About the Contributor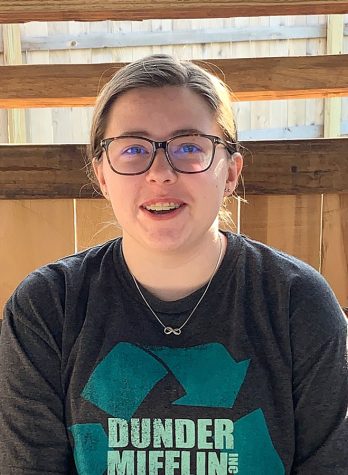 Sarah Short, Reporter
Sarah Short is a junior reporter in her second year on The Signal staff. She plans to stay with the Signal for the rest of her high school years. She enjoys...