Relationships with pets can help fill voids in life
Everyday when I come home i'm greeted with screaming and crying but it's actually a good thing. I'm greeted by my three dogs. There names are Biscuit (Toy Australian Shepherd), Gracie (Toy Australian Shepherd), and Ken (Pembroke Welsh Corgi). Biscuit is 8, Gracie is 3 and Ken is 1.
Dogs have been in my family for as long as I can remember, they are really my happiness. After a tough day or losing someone you love I remember always having my dogs. Best of all your dogs can't talk back to you. My dogs bring me joy by playing fetch with me, running with me around the house. Somedays I would rather hang out with my dogs than with my own friends.
Biscuit was a runt when he was born, which means he was born the smallest in his litter. His mom didn't think he would survive so she didn't feed him. My Nana's friend was the one who owned the litter and the mom. She gave my Nana Biscuit and that's how we got Biscuit.
Gracie is my other dog, she is the sweetest little girl in the world.If i come home from a bad day at school and i'm sad Gracie knows it and is ready to comfort me in the instant. She will always be by your side. When my oldest sister went off to college my mom decide to get another dog. Which is how  we got Gracie. We found Gracie from a dog breeder.
Which means Gracie and Biscuit are half siblings! Me and my mom drove about an hour away to go pick up Gracie, when we first met Gracie she immediately jumps into my arms.We put Gracie in the car and head home, she sleeps all the way there.
Now for Ken, Ken is my dog because I helped pay for him. I've wanted a corgi ever since I could remember and I wanted to name him Ken. Over the summer of 2018 I got a job at a water park to help pay for Ken. He was $1,000, my mom said she would pay $500 and I would pay the rest.
On the drive home Ken was all over the car. He was either sitting on the chair next to me or laying on the ground sleeping. My mom stopped at a gas station to get some gas and I took Ken out on a leash to use the restroom. Ken was very interested in the ground and what rocks and grass where. So interested that he wouldn't use the bathroom, so I just took him back to the car and on our way home we went.
When we all got home I had to introduce Ken to Gracie and Biscuit. Biscuit didn't know what to think. A new brother? Biscuit didn't like it at all. Gracie however was running around Ken jumping on him and they instantly became best friends.       
My house has a pool outside and since its not warm enough outside we have it covered. Since it's been raining the top is sinked in from the water on top of it. Ken will get on the deck and run into the middle of the pool and get stuck because he cant run back up. But now he has found a way to get out, sorta. He backs up to get a running start runs on the side of the pool wall and makes it up to the deck. But most of the time he ends up slowly sliding back down into the water because his legs are so small.
When the dogs come inside from using the bathroom they get treats. Gracie runs and sits on the top of the couch, Ken sits on the arm of the couch, and Biscuit sits on the floor and they all just start putting their paw in the air and start pawing at the air like they're asking for the treat.
It is this type of interaction that helps me have balance in my life. The love of a pet is priceless and I hope more people can experience this type of relationship.
About the Writer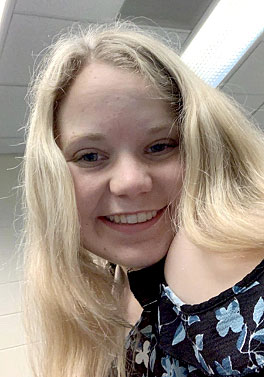 Cassidy Newberry, Reporter
Junior Cassidy Newberry has been attending the Fort Osage school district for 12 years. This is her second year on The Signal Staff. Cassidy enjoys drawing...