Qualifying for NSDA Nationals "a virtual" reality
Concentration filled the mind of senior Aleesa Hill as she debated her opponent in the district tournament. The walls of the room are covered with a soft tan paint  with trophies and medallions lining one section of them and a "Hunger Games" poster on another. She stands poised with confidence in the center of the room sporting her black blazer with a dark pink shirt underneath it. The blazer-shirt combo is complemented with her grey and white striped drawstring pajama bottoms. Hill is debating virtually from her bedroom. Her phone is propped up so she, the other competitor and the judge can see one another over a Google Meet, though only from the abdomen up. Her evidence is spread over the white comforter on her bed for her reference but she uses a laptop sitting on a TV tray to electronically supply the evidence to her competitor. It's a mess, but once she gets going in the debate, it's the same routine for her.
Hill qualified for the National Speech and Debate Association's National tournament by finishing 4th in the Lincoln-Douglas Debate at the Heart of America District Tournament April 24. The first two rounds were debated live at Liberty High School on March 3, but the other six rounds were done virtually through Google Meet on April 24. Hill waited in her bedroom with anticipation for the results to pop up on her laptop screen.
"It felt really good because normally after the round they were posting the results really quick and you can check in the next 30 minutes if you won or not," Hill explained. "So, I think I was probably sitting there for a good two hours just refreshing the page trying to wait for the results to pop up. It was just such a relief knowing that all of it paid off and the time I spent the last week doing all this and everything was worth it."
Hill not only is a successful varsity debater, but she is the Co-President of the school's NSDA chapter, a cross country athlete and a member of the robotics team. Eleven year veteran Head Speech and Debate Coach Mr. Bobby Phelps finds confidence in her accomplishment.
"It was a real boost definitely to the program, " Mr. Phelps said. "I'm real proud of Aleesa because with all this going on… it almost looked like they weren't even going to have the tournament."
Due to the COVID-19 Pandemic, stay at home orders issued by Jackson County and several municipalities in the metro forced high schools in the Kansas City area to close March 13. This in turn cancelled or postponed school activities like Speech and Debate. The Heart of American District tournament was suspended after two rounds, but those two rounds counted. HOA District Tournament facilitators Tim Baldwin, Speech and Debate Coach at Liberty High School, and Sheila Holt, Speech and Debate Coach at William Chrisman High School, and the committee organized the rest of the competition in virtual rooms on Google Meet. Mr. Phelps feels grateful that students were able to compete.
"This has been a great opportunity the way they were able to pull it together and have the virtual tournament," Mr Phelps said. "(Aleesa) gets to put a feather in a cap for the year…because she's one of the hardest workers and I'm glad she made it."
Hill debated the topic, "Predictive Policing is Unjust." She prepared as she normally does, only for the last six rounds of the HOA District Tournament she debated from her bedroom on Google Meet. Nicole Overbay has known Hill since the 1st grade and a past debate partner. Overbay, who is the other Co-President of the school's chapter of NSDA, knows Hill deserves to go to Nationals because of her work ethic and dedication.
"It makes me feel so proud. I just feel so happy for her," Overbay said. "…to know that she made it to that level of this like really difficult level of competition it is so inspiring. It makes me really happy because I've seen her work on this stuff and she really goes hard." 
The Heart of America District is a difficult district to compete in according to Overbay. Students in this district are consistently the ones that place at Nationals. For Hill, that pressure and the added stress of debating virtually made the feat even more special. 
"It definitely means a lot because the past four years you know I've just been working towards this and trying to get better and better and everything," Hill said. " We had a girl that qualified two years ago and she was someone that I really looked up to. So, it feels really cool to be able to kind of put myself on the same level as where she was."
Once the final round of her debate concluded, Hill changed into comfortable clothes to wait for the results. Time was moving slowly as she sat on her comfortable bed, but her occasional click on the mouse on the refresh button helped her stay focused on what she wanted to see on the screen. Finally, the rankings came up and Hill made the top four that would move on to the NSDA Virtual Tournament June 14-19. She may have even jumped up and down on her bed.
About the Writer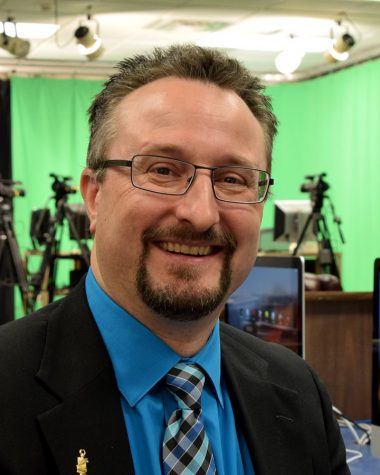 Mr. Benjamin Merithew, Adviser
Adviser Benjamin Merithew has been teaching high school journalism since 2006. He has advised newspaper, yearbook, online news and broadcasting during...